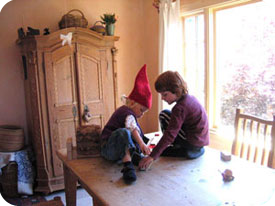 "The moment I walked into Wiebke Larson's preschool, Children's Sonnen House, which means Sun House, I felt like I had stepped into an enchanted world. I had visited other preschools. I had even been a preschool teacher for several years. Never had I experienced the joy, the flowing peacefulness, the unbelievable creativity, and the sense of magical presence that I felt as I watched these children play in Wiebke's home. I knew I had found the right preschool for my child.
My daughter was privileged to be with Weibke for one full school year. She learned to sew, to bake, to find fairies in the garden, and to magically transform chairs into trains. She was guided from circle time to free play to snack in the most gentle, seamless way as Wiebke's song or movement would gently guide the children to the next activity.
The children are held at Wiebke's in the most tender embrace of an atmosphere that truly matches their rhythm, that respects and supports their natural creativity and imagination, and that feeds their souls. Finding like minded parents who also want this kind of atmosphere for their children was another gift of finding Wiebke's preschool. Our daughter remains best friends with several of the children she met there, and our families have remained close.
Wiebke Larson is the most loving, caring teacher a parent could ever find to entrust their precious preschoolers to. If you recognize the importance of preserving early childhood as a time of play, imagination, and creativity, and understand that this is the most solid foundation one can provide for all later learning, then this is the preschool for you and your child.
This is what my daughter Rachel has to say about her experiences at Children's Sonnen House:
'It was fun, playful, kind and beautiful. I really liked how the kids treated each other and me. Wiebke was a very funny, imaginative and kind pre-school teacher. My favorite things to do there were celebrate birthdays and baking real things. I liked the birthdays because we got to sit on a throne and wear a crown and cape.' "
— Linda
"Have you considered a Waldorf approach? If it interests you at all, I suggest you visit Children's Sonnen House in El Cerrito. Wiebke Larson runs a beautiful preschool out of her home. It is very small and holds a shy or anxious child well. Wiebke has a wealth of experience and heart, really knows and loves each child. My daughter went there for 3 years and thrived."
— Katie
"I looked at many preschools for my daughter, but when visiting the Sonnen House, I knew I had found something very special. I wasn't looking for a Waldorf preschool, but I loved what I saw. Wiebke Larson, a very experienced Waldorf preschool teacher, funs the most magical and loving preschool from her home in El Cerrito. It is a small preschool, 6 children usually, and she creates a wonderful family environment that supports and celebrates each individual child's growth and creativity. With songs, magical stories, baking, friendships, animals and a warmth that is beyond description, my daughter was happy there for several years. Wiebke is a true treasure, and I found the small intimate size of her school to be perfect for my little girl."
— Happy Parent
"The Waldorf-inspired preschool Children's Sonnen House, is excellent. Wiebke Larson taught kindergarten at the East Bay Waldorf School for many years before opening her own program. She is located in El Cerrito."
— Judy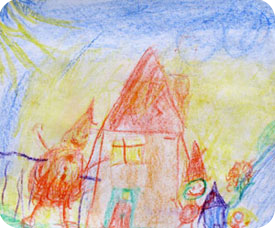 "Looking for a wonderful loving, gentle, caring preschool for your little one? Children's Sonnen House is your answer. It is a Waldorf preschool in El Cerrito. It is run by Wiebke (over 20 years experience as a Waldorf teacher) My 4 year old boy goes 3 days a week (9 am to 1 PM) She is open M-Th 9 am – 1 pm We love it there. She tends to the children without interfering with their creativity. She guides them in their play and holds a caring loving place for them to grow and be nurtured. There are only 6 children each day so the children get to form good bonds with their friends. If you're looking for a small Waldorf community, this is it."
— Happy Waldorf Parent


"My 4 year old daughter has attended Children's Sonnen House since she was 2 1/2. Wiebke Larson is a gifted young child educator who supports and loves each child uniquely. She has created a nurturing environment in her home in which children can truly imagine, trust and grow into confident, caring and creative individuals. Each week for 1 1/2 years we have felt so grateful to have found Wiebke, and cannot imagine a better way for our daughter to enter the world of school and play. Sonnen House is Waldorf-based, but not exclusively so; Wiebke has had many students go on to other schools in the area. We were not that familiar with Waldorf education (based on Rudolph Steiner's writings, Waldorf for young children puts a stron emphasis on imagination and play) but it has been a true pleasure and inspiration to have Wiebke in our lives."
— Happy Parent





Children's Sonnen House
510-204-9346

Article in the East Bay Monthly Sept. 2009:
http://www.themonthly.com/shopping0909.html
Preschool Primer | How panicking parents can make it through the search.

By Carolyn von Behren
The Waldorf Life
For those looking for an earthy, low-tech preschool experience for their child, a Waldorf-inspired school just may fit the bill.
Guided by the philosophy that children should be educated from the "inside out," Waldorf schools emphasize old-fashioned forms of creativity, while discouraging the use of TV and computers. Children engage in lots of imaginative play, often outdoors, and work with natural, organic materials like yarn, twine, and wooden branches. Teachers provide parents with guidance and resources on limiting access to media and technology.
Stepping into Children's Sonnen House in El Cerrito, I am immediately overwhelmed by the sense of peace enveloping the quaint, home-based preschool. The walls are painted in soft, neutral colors; the lighting is warm. Rustic wood tables, chairs, and baskets, adorned by handmade coverings, furnish the rooms. A thick table, ideal for baking activities, occupies the kitchen, and a fairy-tale garden peeks just through its door. The home feels like two "hugging arms forming a beehive," as teacher Wiebke Larson describes it.
I watch two little girls happily flitting around the front room as magical fairies. They use only wooden toys, couches, tables, and scraps of fabric in their play—no store-bought costumes, or even wands. Their voices, though animated, are soft and easy. "Less is more because it really nurtures innate human creativity," Larson says, describing both the scenario at hand and the Waldorf ideal. When I note the lack of a play structure in the backyard, Larson explains that it's not necessary—the imagination-based play and interaction with nature at Waldorf schools inevitably result in plenty of physical activity.
Waldorf preschools are typically home-based and small. At Sonnen House, Larson accepts a maximum of about five—yes, five—children. Only two other Waldorf preschools exist in the area—Margaret's Garden and Redwood Garden, both in Berkeley.